Temperatures and forecasts and satellite map
The climate is very pleasant all year round, with temperatures varying between 25 and 34 degrees Celsius.

There are three seasons, warm and dry season from February till May, rainy season from the end of September till November and "cool" season which extends from October till January.

Rainy season often amounts in fact to some "refreshing"showers followed by the return of the sun.

The climate is tropical so very humid all year round, but Samui remains always refreshed by a pleasant sea breeze blowing from the Gulf.

In conclusion, if you love the sun and if you can withstand heights of summer, come from February till May! It is very rare that it rains...
Satellite Map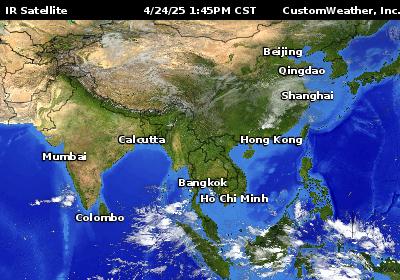 December to February (main season) it is up to 30C (86F). Short tropical rain, mostly in December. This is the best time of year for European 's to visit, because the the tempertaure is cooler.
March to June it becomes very hot, up to 40C (114F) in the sun and it rarely rains. (Low season)
July to September (main season) is hot, but some days its raining.
June, October, November are rainy seasons. But its not raining every day compared to other regions of Thailand. Samui does not really have a monsoon season. But sometimes there are sunless periods of 2 or 3 days.
Average Maxium Temperature C
Jan
Feb
Mar
Apr
May
Jun
Jul
Aug
Sep
Oct
Nov
Dec
Max Temp.
30
32
33
31
31
31
31
30
30
31
31
30
Min.Temp
22
23
24
25
25
25
24
24
24
24
24
23
Average Water Temperature
Water Temp.
25
26
26
27
27
28
28
28
28
26
27
26
Average Rain Fall
Rain mm
38
8
12
62
187
112
143
123
210
261
302
98
Overall Koh Samui weather is very good all year round, Only November being unpredictable, with most rain coming within this month.
See Wind